By Viviana Castañeda
Coronavirus has triggered a halt for many concerts. But Glastonbury Festival is taking a different route throughout these chaotic changes occurring worldwide. The festival is celebrating their 50th anniversary this year. The lineup was revealed earlier today, and the festival seems to be moving forward with their regularly scheduled dates. At least for now.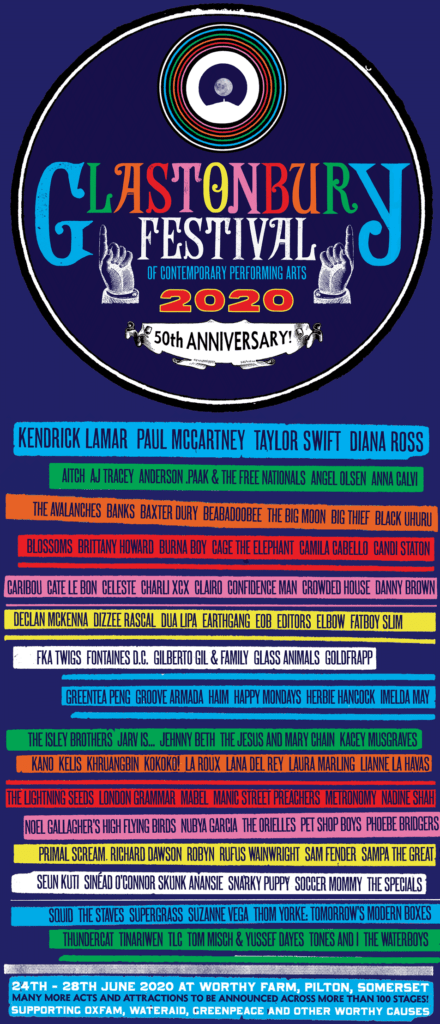 Co-organizer of Glastonbury Festival, Emily Eavis, shared the official lineup of the festival happening in June. Tickets are currently sold out.
"As things stand we are still working hard to deliver our 50th anniversary Festival in June and we are very proud of the bill that we have put together over the last year or so. No one has a crystal ball to see exactly where we will all be 15 weeks from now, but we are keeping our fingers firmly crossed that it will be here at Worthy Farm for the greatest show on Earth!"
Eavis said this is only a peek of what's to come. They plan on revealing more artists and attractions within the next few weeks.
Some of the big artists set to perform include Dua Lipa, Camila Cabello, Kendrick Lamar, Taylor Swift, Lana Del Rey, Thom Yorke, HAIM, Kacey Musgraves, and more.
Photo: Shutterstock