Kurt Cobain, lead singer of legendary alternative rock band Nirvana, would have turned 53 today, February 20, 2020. To celebrate the life and legacy of a man who altered the early 90s music scene, became a sound for generation, and rebelled against authority, here are top moments from Kurt Cobain.
Wedding Pajamas
Kurt Cobain was notorious for being anything but normal. He carried his carefree attitude all the way to the altar when he married Hole frontwoman Courtney Love in Honolulu Feb. 24, 1992. Love, pregnant with his only daughter Frances Bean Cobain, wore a hand-me-down white dress from actress Frances Farmer. Kurt Cobain sported baby blue flannel pjs, a small black crossbody bag, and a warmhearted smile.
https://www.instagram.com/p/mJNzflGywa/?utm_source=ig_embed
In the years of their relationship, Love and Cobain made controversial headlines regarding drug abuse, including allegations Love used drugs throughout her pregnancy. According to an interview with Danny Goldberg, Nirvana's manager during their height, Love and others attempted to intervene Cobain's drug addiction before he ultimately committed suicide. 
The Cover of Rolling Stone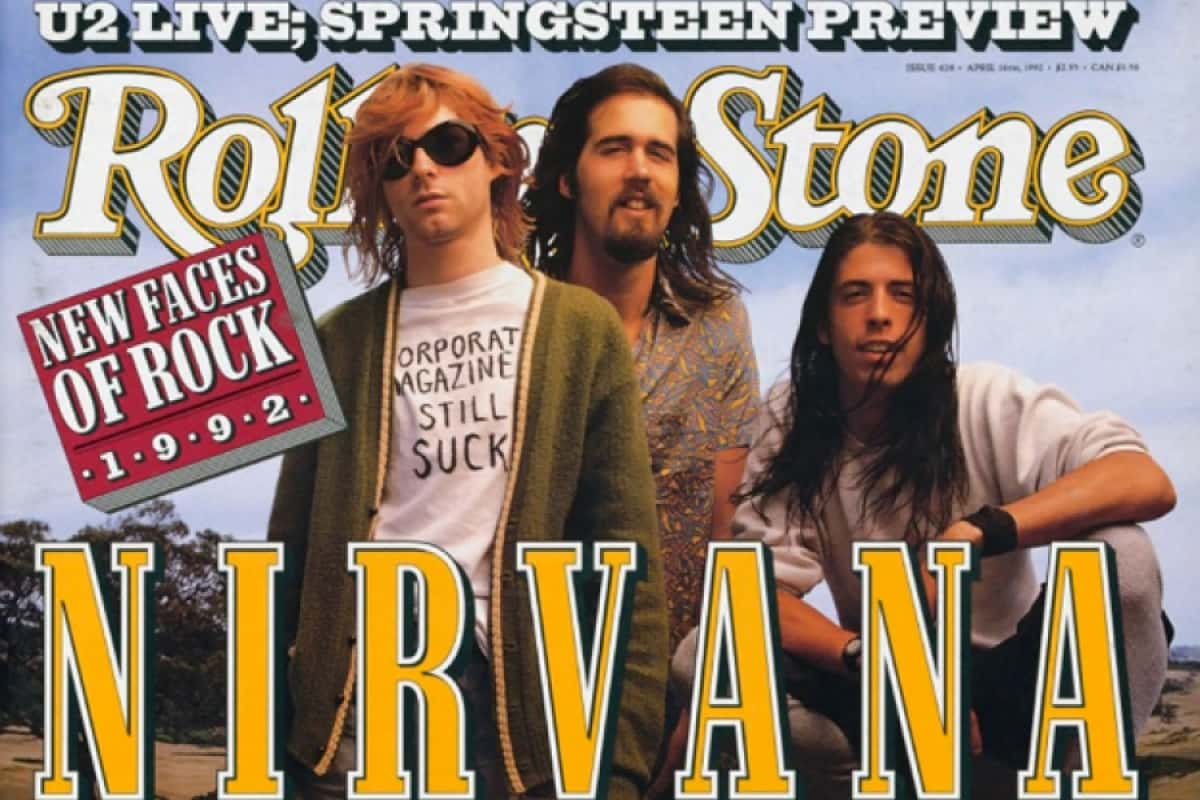 Photo via Rolling Stone
1992, an eventful year for Kurt Cobain, Nirvana featured on the cover of the Rolling Stone magazine. The band was supposed to wear Brooks Brothers suits, but the trio had other plans. Cobain showed up in a T-shirt that read "Corporate Magazines Still Suck," Krist Novoselic and David Grohl wore a crew neck sweater and a flower button-up.
Although he openly wore his disdain for Rolling Stone, in an interview with the magazine Cobain said he decided to comply with the cover and interview because he wasn't 100 percent opposed to the content; and called fighting amongst rock n' roll peers "old school."
He also said, "I don't blame the average seventeen-year-old punk-rock kid for calling me a sellout. I understand that. And maybe when they grow up a little bit, they'll realize there's more things to life than living out your rock and roll identity so righteously."
Debut of "Smells Like Teen Spirit"
"Smells Like Teen Spirit" debuted at a benefit concert in Seattle, five months before Nirvana's sophomore album Nevermind was released. In an iconic lineup with  appearances from Bikini Kill and Fitz Of Depression, it was a rock fan's dream.
As seen in this below, the crowd went absolutely wild when the punk rock band played what would be one of their most iconic songs.
"Nevermind" went on to knock off Michael Jackson's "Dangerous" for the No. 1 spot on Billboard 200, become certified multi-platinum, and become one of the best selling records of all time.
Kurt Cobain's Top 50
'Kurt Cobain's Journals' is a book and collection of writings and drawings created by Kurt Cobain during his life. It was published November 2002 to an uneasy and hesitant fan base.
In spite of the split on the moral standing of releasing Cobain's intimate thoughts, the collection did give insight to Cobain's top 50 albums. Some of the artists include Young Marble Giants, The Frogs, and Wipers.
'Kurt Cobain's Journals' gave a look into the character of man many people knew and loved. His legacy as an artist, activist, father, and friend will not soon be forgotten.