2020 is a major election year, and with everything going on we thought it would be helpful to put together a voting resource with information you might need.
Below is a rundown of important voting dates to remember, tips on how to register to vote and where to vote, plus you can check out who represents you here in Austin.
Interested in working at the polls? Travis County is looking for people to join the election team! Get all the details on how you can help your community, applications for these paid roles are available to view here.
---
Chris Mosser talks with Travis County Clerk Dana DeBeauvoir about voting
Chris Mosser talks with Travis County Clerk Dana DeBeauvoir about all things voting, including deadlines, voting locations, new policies and procedures, and how to make mail-in voting convenient for you. Beginning October 1 all the way through Election Day, Travis County is offering drive-thru hand-delivery voting services. 
Travis County is allowing registered voters to bring their mail-in ballot and hand delivery it to any of the three setups they will have in their parking garages across the street from the courthouse. All you need to do is drive-up to the garage, show your ID, sign a roster and hand in your sealed ballot. Watch the full interview for more details on the operation. 
Chris Mosser talks with Bruce Elfant about Text2Register | Austin City Limits Radio
Travis County Tax Assessor-Collector and Voter Registrar Bruce Elfant chats with Chris Mosser about the upcoming election and how you can register to vote with Text2Register.
Chris Mosser

speaks

with Pam Bixby of the League of Women Voters
Chris Mosser speaks with Pam Bixby of the Austin, Texas chapter of the League of Women Voters about becoming a poll worker for the upcoming election.
---
ABBOTT ORDERS COUNTIES TO CLOSE BALLOT DROP-OFF SITES
Each Texas county is now allowed only ONE drop-off site for mail-in ballots. In Travis, go to the Travis County Elections office at 5501 Airport Blvd. in Austin. In Williamson County, go to 301 SE Inner Loop, Suite 104 in Georgetown. And in Hays County, the drop-off is at 712 South Stagecoach Trail, Suite 1012 in San Marcos.
https://www.statesman.com/news/20201001/abbott-orders-counties-to-close-multiple-ballot-drop-off-sites
Important Dates:
Tuesday, November 3, 2020 Presidential Joint General and Special Elections

Last Day to Register to Vote
Monday, October 5, 2020*
First Day of Early Voting in Person
Tuesday, October 13, 2020
Last day to Apply for Ballot by Mail (received, not postmarked)
Friday, October 23, 2020
Last Day of Early Voting in Person
Friday, October 30, 2020
How Do I Register to Vote?
It is simple! Visit the Texas Secretary of State's website and fill out the application: webservices.sos.state.tx.us/vrapp
More information can be found here: votetexas.gov
---
What about voting by mail?
Currently in Texas you still need to have a reason beyond COVID-19 fears. More info by clicking here.
Application for a Ballot by Mail
To be eligible to vote early by mail in Texas, you must:
be 65 years or older;
be disabled;
be out of the county on election day and during the period for early voting by personal appearance; or
be confined in jail, but otherwise eligible.
Instructions for submitting an Application for Ballot by Mail ("ABBM"):
Print (PDF) the ABBM form
OR submit an order online and an ABBM will be mailed to you.
Complete Sections 1 through 8.
Sign and Date Section 10.
If you were unable to sign the application and someone witnessed your signature, that person must complete Section 11.
If someone helped you complete the application or mailed the application for you, that person must complete Section 11.
Affix postage.
Where do I go to Vote?
WAIT TIME MAP: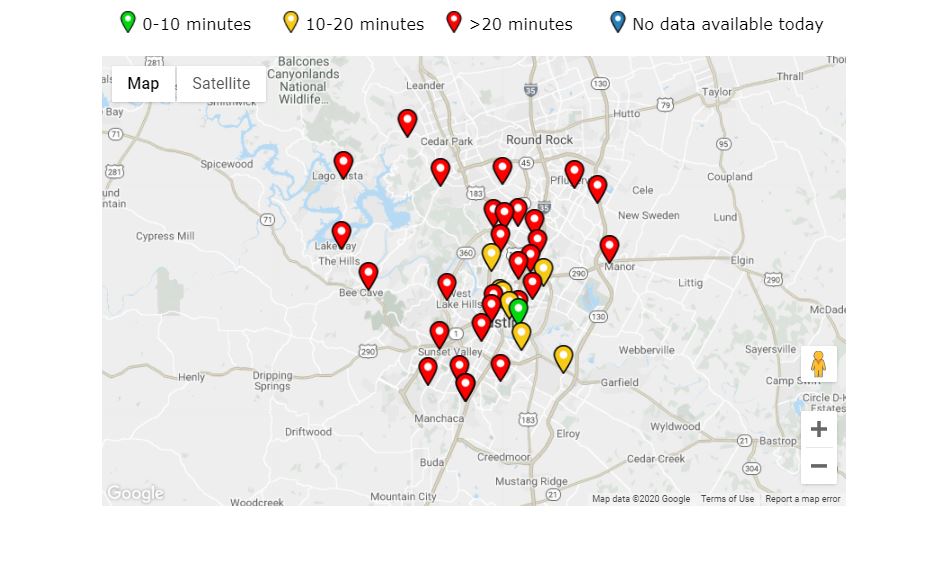 IMPORTANT NOTE: For the last three days of early voting (October 28, 29 and 30) several "Mega-Center" polling stations will stay open until 9PM, rather than the usual closing time of 7PM. These locations are:
Central Library, 710 W. Cesar Chavez
Pflugerville ISD Rock Gym, 702 W. Pecan
Millennium Youth Ctr., 1156 Hargrave
Southpark Meadows, 9600 S. I-35 #500
Ben Hur Shrine Ctr., 7811 Rockwood
---
Who Represents Me?
Form not working? Try this link: wrm.capitol.texas.gov
---
How to get involved with the City of Austin
The website for the City Clerk contains all the information you might need to get involved on the city level: austintexas.gov
Who is up for election in November?
(more info coming soon)
Senate
Congress
State Senate
Texas House of Representatives
Travis County
Hays County
Williamson County
City of Austin